Sure, we often look to the stars for things about ourselves but we don't often associate our signs with specific colors now do we? Have you ever heard of something called 'colorstrology?'
Colorstrology was created by a lady named Michele Bernhardt, she combined sun signs and ruling planets with numerology and assigned each day of the year a color and each month of the year a color as well. This being a 12-month guide with one color for each month that best encompasses it.
According to Michele the color of your month is something that should help you to feel more balanced and she says that colorology is very different than astrology itself, you don't have to be stuck with your color as you are your sign. She claims you can add colors of other months into your life to find things that you are lacking for instance if you are lacking tranquility, regardless of your sign and color you should be adding some of September's color into your life.
Michele's book is titled, Colorstrology: What Your Birthday Color Says About you and is available for purchase if you click here. Below you will find the birth month colors as described by Michele in her book, however, if you want to know the color of your exact birthday and more info on colorstrology a whole you will have to read her book. Enjoy!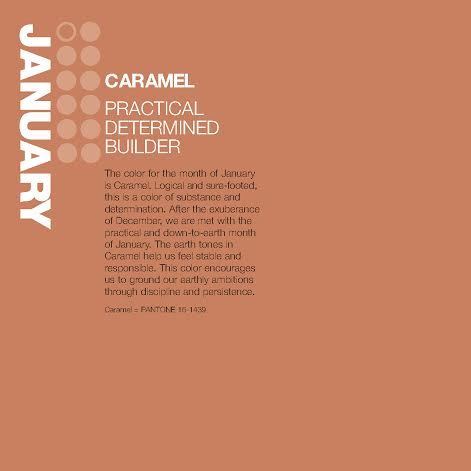 January: Caramel
This color is logical and sure-footed, you need this color when you want to feel stable as this color encourages us to ground our earthly ambitions through discipline.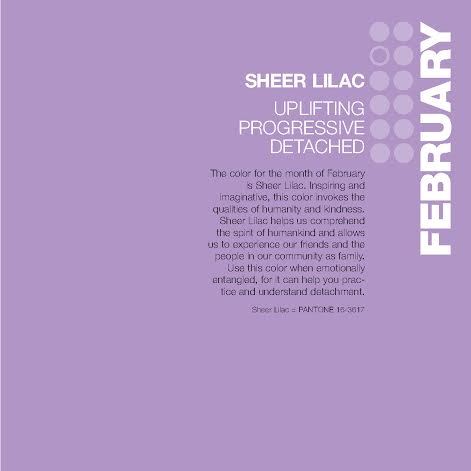 February: Sheer Lilac
This color is uplifting, inspiring, and imaginative. When you are feeling emotionally entangled this color helps you detach as needed. This color is meant to help us understand the spirit of humankind and allows us to bring about a new definition to the word family.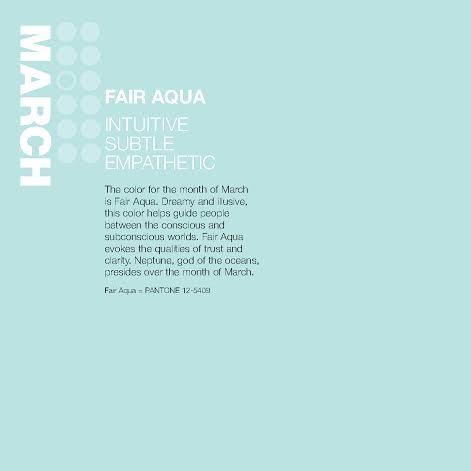 March: Fair Aqua
This color is subtle and intuitive when you are looking for inspiration this color comes to you. This color is meant to help guide people between their conscious and subconscious.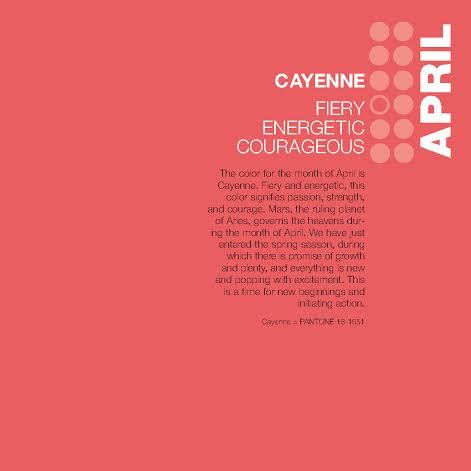 April: Cayenne
This color is fiery and passionate, to say the least. When you want a boost of fearlessness this is the color for you. It helps support enthusiasm and can help when it comes to being more competitive.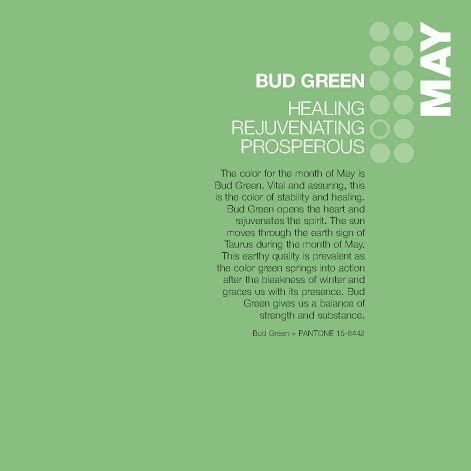 May: Bud Green
This color is rejuvenating and can bring about a state of balance and strength when needed. It is the color of healing.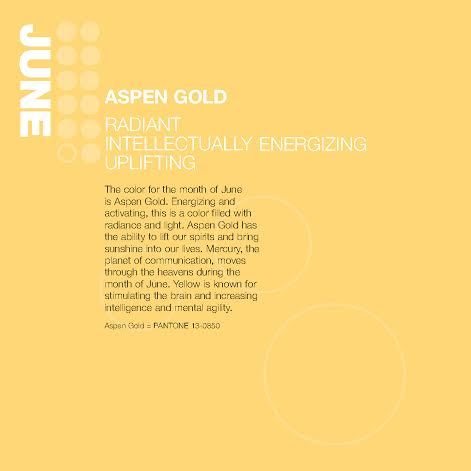 June: Aspen Gold
This color is radiant and stimulating. When you need to remember something this color can help. This color is filled with abilities and is able to lift our spirits quickly.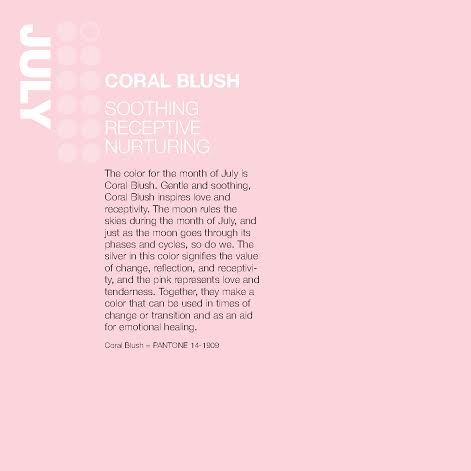 July: Coral Blush
This color is gentle and nurturing in a sense when you need emotional healing or something along those lines this is the go to color. It helps attract love and sweetness.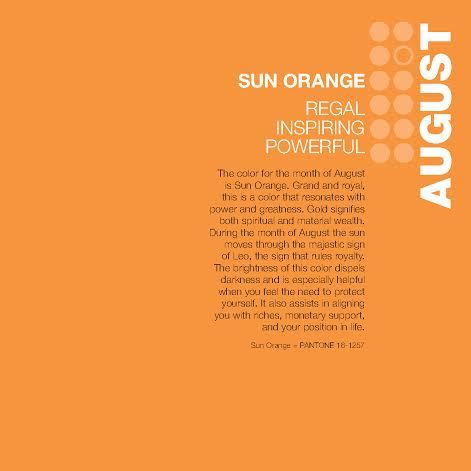 August: Sun Orange
This color is powerful and confident in many ways when you are feeling self-conscious this color will create joy and bring about inner peace. This color resonates greatness.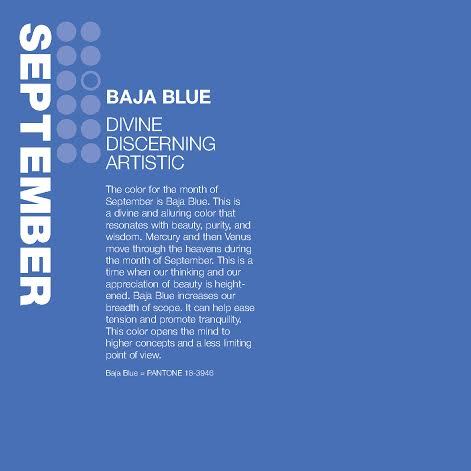 September: Baja Blue
This color is very wise and will help when you need to organize your life. It is beautiful and pure, all that you would need.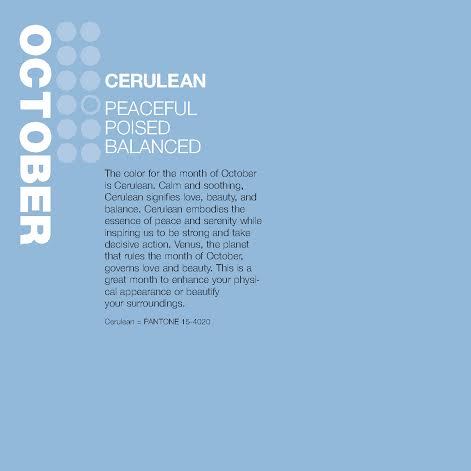 October: Cerulean
This color is calm and balanced, it helps people to achieve a deep inner peace and maintain a balance when it comes to receiving and giving. It allows for one to be calm all the while strong and decisive.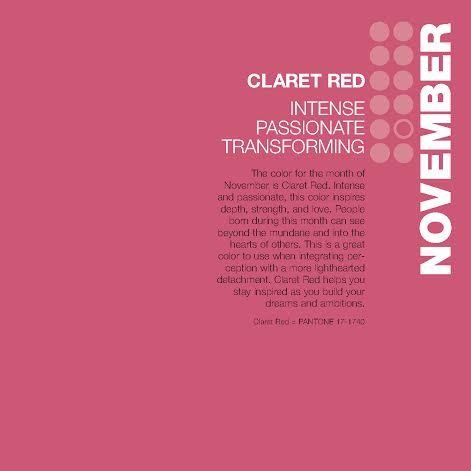 November: Claret Red
This passionate color is there for helping people through emotional blocks and transition periods. It inspires deep love and strength.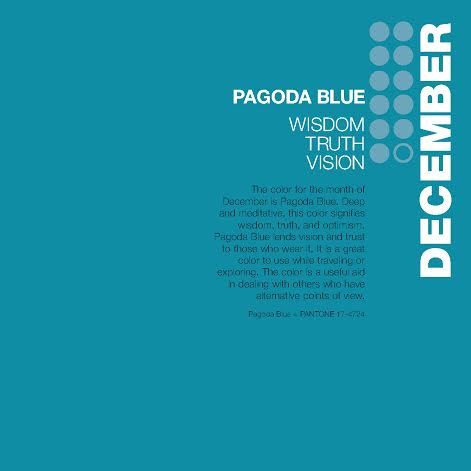 December: Pagoda Blue
This color is very enlightening, it should be incorporated when traveling and signifies truth, wisdom, and brings about optimism.