Today July 6th, 2017 would have been Kahlo's 110th birthday had she lived to see it. Sadly this art legend only lived to be 47 years old.
She left behind an artistic legacy that is still inspiring people today. Kahlo passed away at home on in July of 1954 due to pulmonary embolism. She had been dealing with health issues for most of her life. Her art by the end of her life was dark and grim but she had continued working until her very last breath. The photos you will find below were taken by a French photographer named Gisele Freund during the early 50s and document this cultural icon's last days.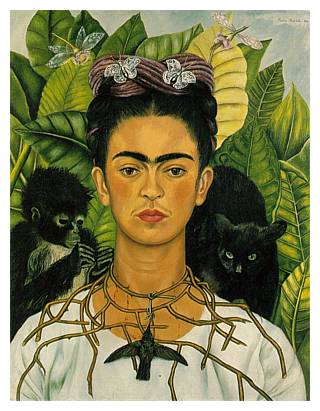 Freund was living with Kahlo and her husband in Mexico City after fleeing from political tension in Argentina. This photo collection was published by Harry N. Abrams in 2015 and exhibited at Throckmorton Fine Art in New York City. Kahlo was a very strong and inspirational woman and the world will not easily forget her.
To learn more about Kahlo and her life please take the time to check out her mini-biography by clicking here. Her fame has only grown since her death and will continue to do so. She is and always will be a wonderful example of female creativity.