The ick is something that can come at any time during a relationship, after just a few dates or years into it. When the ick makes its way in there is no changing things.
It is a cringy feeling you can get when you're dating someone. It often comes on as a sudden disgustedness with them that you just can't seem to shake. They may be clean and hygienic and yet you still are repulsed by them for some reason. This could be because of something they do or even something they said.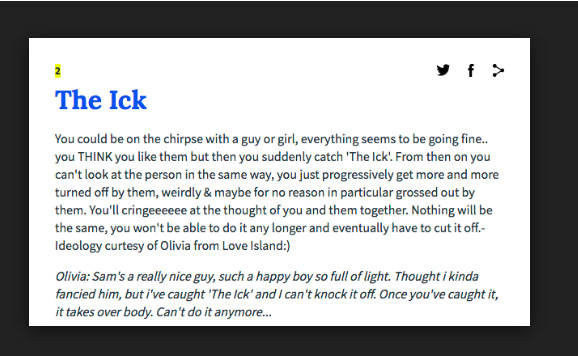 Now, as I mentioned above the ick can happen at any point during a relationship but it most often happens near the beginning of a relationship. It is also known as sudden repulsion syndrome. For the most part it will occur after the first few dates. When this happens you may feel bad because you can't really make out what it was that triggered the deep repulsion you are having but it is not something you should take to heart. Who wouldn't feel bad if this great/sweet guy who thought things were going so well was suddenly nasty in your eyes?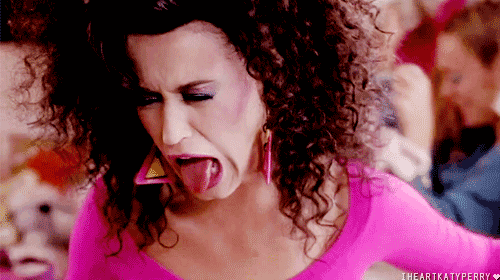 If for some reason things aren't working then they just aren't working. We don't all mesh even if we want to. There is nothing wrong with moving on when you are no longer interested. The ick is simply a gut feeling that we either listen to or ignore.
Why do we get the ick?
While you could argue that the ick was our body/minds way of letting us know someone is not right for us (which in a sense it is) but truthfully the ick is just something that happens. All relationships go through moments of disdain, and there is nothing we can do about that. There will be things about people that we do not like and we just have to accept that. Sometimes these things will be livewithable and other times they will not be.
With that being said, when your ick feeling is minor you might be able to push through it but if it hits you head on like a freight train, you should definitely listen to it. Have you ever dealt with the ick and how did your experience with it go? I for one experienced ick early on when I first began dating. This guy seemed great for a little while but then I just could not stand to be around him. Everything about him made me feel sick and I wasn't even able to pursue a friendship with him. It is a very strange feeling.
For more information on this please take the time to check out the video below. This is something that happens a whole lot more often than you might think and even the nicest people can fall victim to it.