A recent Facebook post by Brittney Johnson, while shopping at Target, has gone viral, with over 200,000 likes, 165,000 of which being new. What could possibly have happened at Target to attract this much attention?
It started as a shopping trip like any other with her daughter. Johnson describes her daughter as 'quite the character'. She is polite to everyone and makes friends everywhere she goes, always quick to strike up a conversation.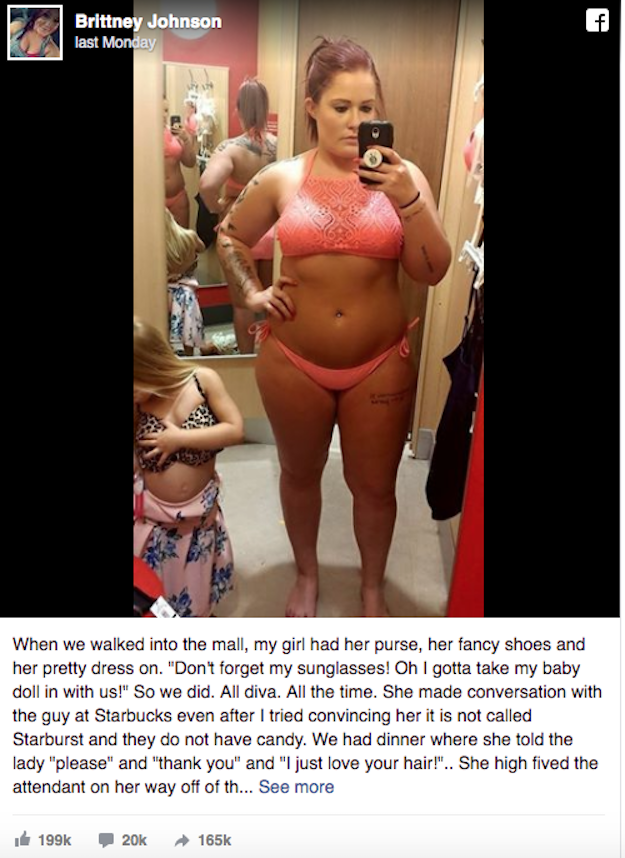 "When we walked into the mall, my girl had her purse, her fancy shoes and her pretty dress on. 'Don't forget my sunglasses! Oh I gotta take my baby doll in with us!' So we did. All diva. All the time. She made conversation with the guy at Starbucks even after I tried convincing her it is not called Starburst and they do not have candy. We had dinner where she told the lady "please" and 'thank you' and 'I just love your hair!' Johnson shared, via Facebook.
She went on to describe how, following dinner, they went for a ride on the carousel together. When she was done, her daughter shared two extra tokens with another little girl.
Their next stop, and the topic of the viral post, was their shopping trip at Target. What were they shopping for? Johnson was looking to try on some bathing suits. "We picked out 11. Yeah. ELEVEN. Walked into the dressing room and she sat down her baby and started unhooking the swimsuits from the hangers and yelling 'I can see your butt!' for the whole dressing room to hear," writes Johnson.
She proceeded to try on the bathing suits, careful to take just the right photos to share the pions with her friends. It was then that she noticed her daughter in the background of one of the pictures, standing in the corner of the changeroom, trying on one of the bikini tops that they had selected.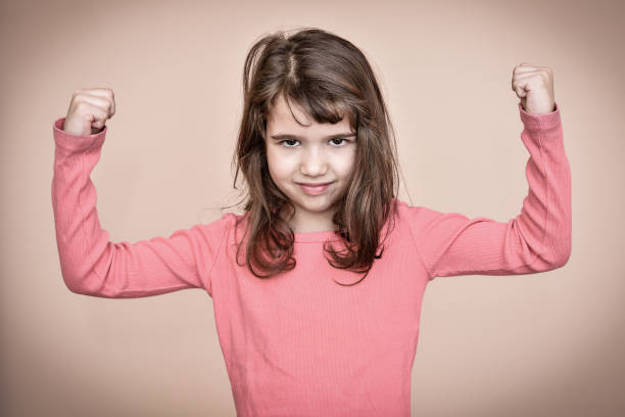 Johnson went on to write, "See that sweet baby girl in the corner? With half a dress on and one of the bikini tops I had picked out? I stopped for a second to see what she would say and when she turned to the mirror, she said 'Wow I just love cheetah print! I think I look beautiful! Do you think I look beautiful too?!'..when it hit me that she only says what she hears. What she sees. I tell her that she is beautiful every single day,"
"She gives compliments to people she doesn't know because she loves how it feels when she hears them.. And when we are in a dressing room, with swimsuits of all God forsaken things, there is a split moment when I have the power to say 'wow I have really gotten fat this year' OR 'wow I love this coral color on me!' And those are the words burned into my daughter's brain."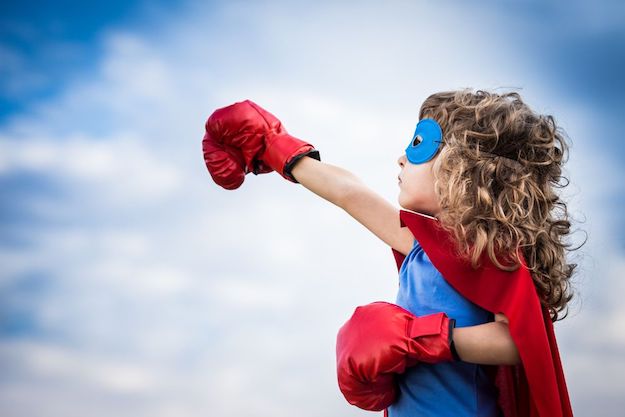 Johnson didn't share this as a way to brag up her daughter, or her own parenting skills, but rather as a chance to share this message from her beautiful daughter in hopes of inspiring others. She wanted to show that, in a society that teaches young women to hate themselves for not having the perfect body, clothing or looks, that you can raise a healthy young woman to love herself. That the trick to instilling this in the next generation is to learn to love ourselves first! After all, how is a bigger influence in a young girl's life than her own mother?
"When it comes to manners, be an example. When it comes to kindness, be an example. And when it comes to body image, be an example. I am not a size zero. I never will be. I have big thighs and a huge rump and for some reason the middle of my body gets more tan than the rest? But this body made a whole other body. I am strong. I am able. And I am happy. I don't have to be beautiful like you, because I am beautiful like me," writes Johnson.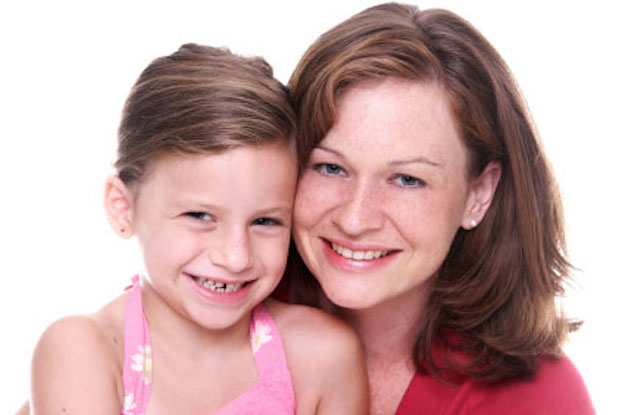 She went on to say, "And as my daughter gets older, and she faces judgement and criticism, I will always remind her that the girls who look the prettiest in a two piece, or a body suit, or a freaking Snuggie, are the ones who are happy. Because that's ALL that matters!"
Brittney Johnson is a great example to parents everywhere, helping to spread this important message about self acceptance and body positivity, creating a better world for the generations to come!